Motorhome Alarms
Your campervan or motorhome is a home away from home and you want to make sure that where ever your motorhome is, be it in storage over winter or the south of France in the summer that it is safe and sound. The most popular way to do this is have a motorhome alarm system installed, this is a great start to motorhome security.
Autowatch 695 CAN BUS Universal Alarm System
The Autowatch 695CAN alarm is a Thatcham approved CAT 2-1 upgrade alarm system, designed to be used on full CAN Bus, semi CAN Bus or conventional wiring systems. The 695CAN alarm can be fitted to any compatible new  vehicle that requires an alarm.
This system is designed to be easily operated from the vehicles original remote controls without the use of an additional remote control. However, if your vehicle has only one remote control supplied as standard, adding an additional Autowatch remote control will prove more cost effective than buying an original remote control.
What is included?
Ultrasonic Sensors
Wireless PIR Sensor
Wireless Reed Switch(for coachbuilt motorhomes)
1 x 4 Button Remote Control
Blue Alarm Status LED
Bonnet Switch
Door Protection
Battery Backup Siren
Can Take up to 4 additional wireless sensors (PIR/Reed)
2-Zone Arming with 4 Button Remote Control
Panel van campervan £399

Coachbuilt motorhome with 1x reed switch £425

A-Class motorhome with 1x reed switch £475
Extra reed switch £35 each

Add SmarTrack Protector Pro Global for just £149 instead of £199(subscription costs apply)
SmarTrack will call you if your alarm goes off to alert you.
Motorhome Trackers
Installing a Motorhome Tracker is a great way to add motorhome security where ever you are. Whether your motorhome was to be stolen with or without the key the technology in the motorhome tracker and the local police force will work together to recovery your motorhome quickly.
ScorpionTrack S7-ALS
Location on demand via PC, laptop or smartphone
Tow-away & tamper alerts
Low vehicle battery text alert
Transferable from one vehicle to another
European coverage included as standard
3 year warranty
£199.00 Fully Fitted inc VAT
(£150 when fitted at the same time as an alarm or Autowatch Ghost)
S7 Subscription costs
Monthly Subscription £9.95
1 year Subscription £109
2 years Subscription £195
3 years Subscription £279
4 years Subscription £329
5 years Subscription £369
Autowatch Ghost 2 CANbus immobiliser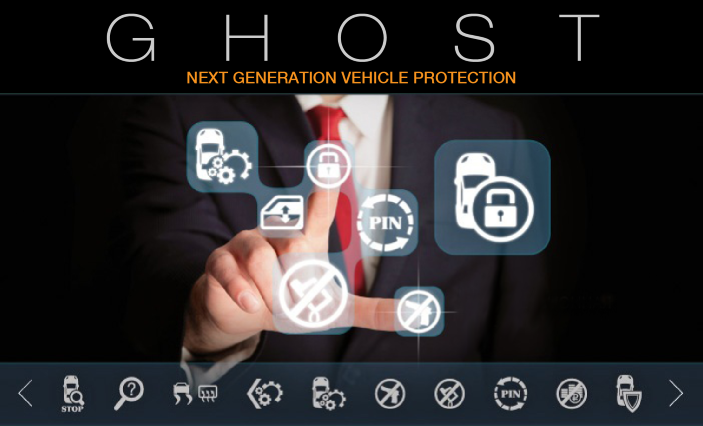 The Autowatch Ghost is the world's first aftermarket CAN bus immobiliser. Protect your vehicle from theft like nothing else on the market today, an ideal choice to upgrade you motorhome security.
The Ghost protects your car from key-cloning, hacking, and even key theft. The only way a thief could take a Ghost protected car is by physically towing it away, even then they will never be able to drive it! The Ghost has no key-fobs or LED indications to give away its location. The Ghost uses the buttons in your vehicle such as those on the steering wheel, door panels or centre console, to allow you to make a unique, changeable, PIN code sequence that must first be entered before you can drive your car. Just like your credit card but you can make your car PIN even safer by making it up to 20 presses long!
Features
Immobilisation by communicating with the ECU
PIN code via buttons on steering wheel / dash
Undetectable using diagnostics
Cannot be bypassed using standard theft methods
No radio frequency signals
No additional fobs (commercial vehicle option allows for fobs)
Uses the on-board CAN data network
Unique user changeable PIN code
Service / Valet mode means the PIN code is never compromised
Secure, unique emergency code should the PIN be forgotten
TASSA insurance approved
To check if your vehicle is compatible with Autowatch Ghost 2 either contact us or use the Autowatch compatability chart.
Autowatch Ghost 2 is now TASSA approved
From 1st of March 2020 the Ghost2 immobiliser will be TASSA (Tracker and Aftermarket security systems association) approved and any company that fits the GHOST IMMOBILISER must be TASSA registered. Autolec HD ltd are TASSA approved to install Autowatch Ghost.
£449 supplied and fitted

There are no subscription costs and it can be transferred to your next vehicle
Add Scorpion Track for just £149 instead of £199(subscription costs apply)
All prices include VAT and fitting at our Huddersfield workshop